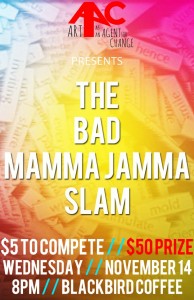 Art as an Agent for Change, Inc. proudly presents the Bad Mamma Jamma Slam Wednesday Nov. 14 @ 8:00pm
Once a year A.A.C. presents ordinary mortals the opportunity to be crowned the Baddest Mamma Jamma.
The slam opens with a hilarious Haiku Deathmatch featuring Deandre "My Neck My Back" Beck VS. Thomas "Huggy Bear" Hughey. The deathmatch is followed by a furious Poetry Slam featuring spit flyin', simile swingin' poets from Middle Ga.
Doors Open at 7:30pm
Slam Begins at 8:00pm
Poets should arrive by 7:15pm to register
Arrive early, seating is limited.
114 West Hancock Street, Milledgeville, Georgia 31061